To what extent were Sacco and Vanzetti immigrant scapegoats to Communism-paranoia?
Setting the Political Scene
Communism__ __is a left-wing political ideology which was the political system in the U.S.S.R. (Russia) in the 1920s. Communism is diametrically opposed to Capitalism – the idea of free markets which the United States was based upon.
Socialism__ __is also left-wing, but slightly less extreme than Communism. There were strong Socialist parties in many British countries, but it was less popular in the U.S.
Anarchism__ __is in some ways more extreme than Communism – it does not believe in markets at all, indeed, it does not believe in politics. Anarchism argues that people should rule themselves, and that economics (markets) and politics (countries) are just slavery for people who need to be free. Often, Anarchists fight against people who represent the state (such as politicians, the army, the police, etc.).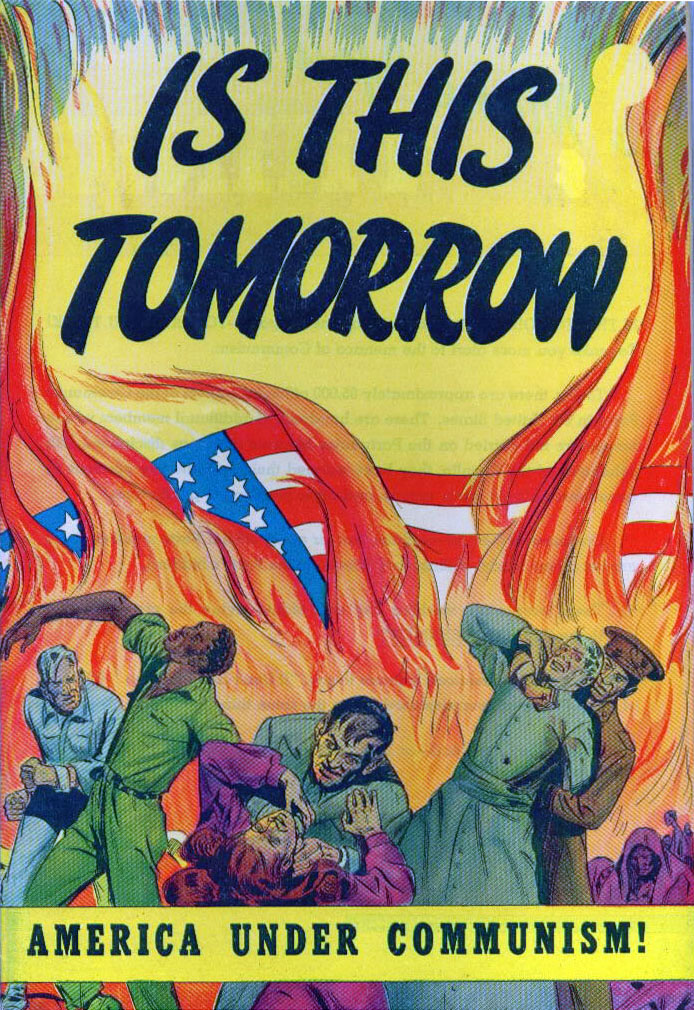 This picture sums up the idea of the Red Scare quite nicely. It shows how scared the American people were of Communism, and the drastic effects they thought it would have if it came to America.
The Red Scare
The Russian Revolution turned Russia into the first every Communist country (now 'The USSR') in 1917, and the American Communist Party was founded in 1919 – Communism had exploded onto the political scene, and people were terrified of it. Communism is a political ideology built around absolute equality and high levels of government control – totally opposite to free market capitalism, and America in particular, with its capitalist mentality, fundamentally rejected Communism and Socialism. However, there were still sections of American society who wanted to spread Communism in America. Ordinary Americans became paranoid about this, and were convinced that there were Russian or Communist spies everywhere – they feared these were going to betray the country to a Communist invasion from Russia, or at least spark a Communist revolution in America as well. This was called the Red Scare.
Why were the Americans so worried about the Red Scare?
One reason that the Red Scare happened was that Americans were worried about the effect Communism, Socialism, or Anarchism would have upon their economy. For example, America had seen the effects of Socialism in slowing down economic growth in Europe (France was a particular example) and causing industrial unrest. Americans worried that this could spread to their country because of America's significant manufacturing industry which employed many workers in fairly bad conditions. These were exactly the type of people that Communism attracted. As such, Americans were obsessed by the Red Scare because it showed a clear way in which American industry could be compromised – they were enjoying the successes of the 'Boom' and were scared of anything that threatened it.
Another reason America was taken by the Red Scare was due to several real incidents of Anarchist and left-wing terrorism. In__ 1901__ an Anarchist called Leon Franz Czolgosz assassinated the President at the time, William McKinley, and in 1919 there was a Communist terror attack on the house of Alexander Palmer: the chief of all American police. As a result, people saw the left wing as not only a danger to their economy, but a true danger to life and security. Americans worried that Communist supporters would increase the violence in America, continuing to protest and commit acts of terrorism which would destabilise the United States.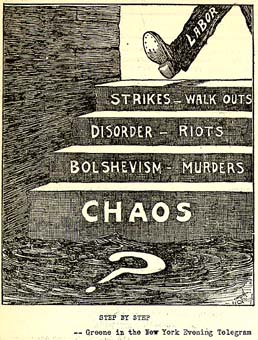 This cartoon from the time shows how people feared that small acts of 'Socialism', such as strikes and factory worker unions, might lead to Communism and bad consequences further on. This shows why they were suspicious of the 'Labor' movement (Labor is the American spelling for 'Labour', which means workforce). The Labor movement wanted better working conditions and rights for workers.
Sacco and Vanzetti
Who Were Sacco and Vanzetti?
There were many immigrant communities in America who favoured the ideas of Communism, or at least Socialism. This furthered many American's suspicions of immigrants, and any found in connection with Communist groups would be highly punished. Two immigrants in particular, who fell afoul of Red Scare justice, were Sacco and Vanzetti. Sacco and Vanzetti were two Italian immigrants who were arrested in 1920 __and executed in __1921 for apparently stealing $15'000 from a factory, and shooting two of the workers. Whether or not there were guilty remains the subject of significant debate – they did not receive a very fair trial, and there is an argument that prejudice against immigrants and Red Scare paranoia distorted the trial.
What was the evidence against Sacco and Vanzetti?
After each piece of evidence, answer whether it makes Sacco and Vanzetti seem innocent or guilty. If you think the evidence is overly biased, or is not enough to convict, write 'compromised'.
Evidence A: 61 eyewitnesses identified Sacco and Vanzetti as the killers.

guilty

Evidence B: 107 people said that Sacco and Vanzetti were elsewhere on the night of the robbery and murders.

innocent

Evidence C: Both men were carrying loaded guns when they were arrested. The bullets were the same type that had killed the two factory workers.

guilty

Evidence D: Both men 'acted guilty' when arrested, and told some lies to the police.

guilty

Evidence E: Of the 61 eyewitnesses, over half were drunk, and most identified something along the lines of 'two dark-looking men with scruffy beards, and their coats pulled over their faces'. Nearly all of the eyewitnesses were friends and colleagues of the dead factory workers. They all disagreed about the clothes the two men had been wearing that night.

compromised

Evidence F: Vanzetti had a previous conviction for armed robbery in December 1919.

guilty

Evidence G: Two other men confessed to the murders. These were not charged.

innocent

Evidence H: The majority of the 107 alibis for Sacco and Vanzetti were close family and friends, and other members of the same immigrant community who felt victimised by the police.

compromised

Evidence I: Sacco and Vanzetti had proven ties to the Communist and Anarchist groups in their city. At the trial, the judge said 'these men may not actually have committed the crime, but they are morally our enemy by dint of their associations'

compromised

Evidence J: The judge and opposing lawyers continued to refer to Sacco and Vanzetti as 'dagos' and 'wops' throughout the official trial, and to the media – these were offensive and derogatory names for Italian immigrants.

innocent

Evidence K: Sacco and Vanzetti maintained throughout the entire trial that they were innocent. Neither ever confessed.

innocent

Evidence L: Neither spoke very good English at all, and often answered questions incorrectly when asked the first time – this included when they were first arrested.

innocent