What was Elizabeth's 'Middle Way'?
Key Terms
Religion was a crucial question throughout Elizabeth's reign, and indeed had been already in England and Europe for some time. In Europe, Christians had split into Catholics and Protestants. Catholics followed the Pope in Rome, Protestants were moving away. This had started with a man in Germany called Martin Luther, who argued that the Catholic Church was corrupt and unfit for purpose, and said that they were misreading the Bible.
Key Terms
Catholic_: _Christians who follow the Pope in Rome. The 'opposite' of Protestants.
Protestant: Christians who follow Churches which broke away from Rome in the 15 and 16th Century onwards. Henry VIII brought the first Protestant Church to England.
Pope: The head of the Catholic Church. He is based in the Vatican City, in Rome.
The Religious Context
Religion in England under the Tudors is often referred to as a 'religious rollercoaster'.
Here is a brief summary of what has gone on in England before Elizabeth:
In England at the start of Henry's reign the country had been Catholic for a long time. Fully Catholic, and following the Pope, for at least __500 __years.
Henry then changed England to Protestant (Church of England), partly because he wanted a divorce in order to have a male heir.
Edward then became King and kept the country Protestant, but a very strict branch of Protestantism. He changed many things in the Church.
Then Mary became Queen and the country became Catholic again. Mary burned at least 300 people at the stake, many for refusing to become Catholic and denounce Protestantism.
Elizabeth then became Queen after Mary died, and returned the country to Protestant. But Elizabeth sorts out many of the differences between the two faiths, and she attempts to forge a 'Middle Way'.
In order to truly understand by the Middle Way was so important, and indeed what it was that Elizabeth was trying to do, you need to understand England's back-and-forth over religion in slightly more detail.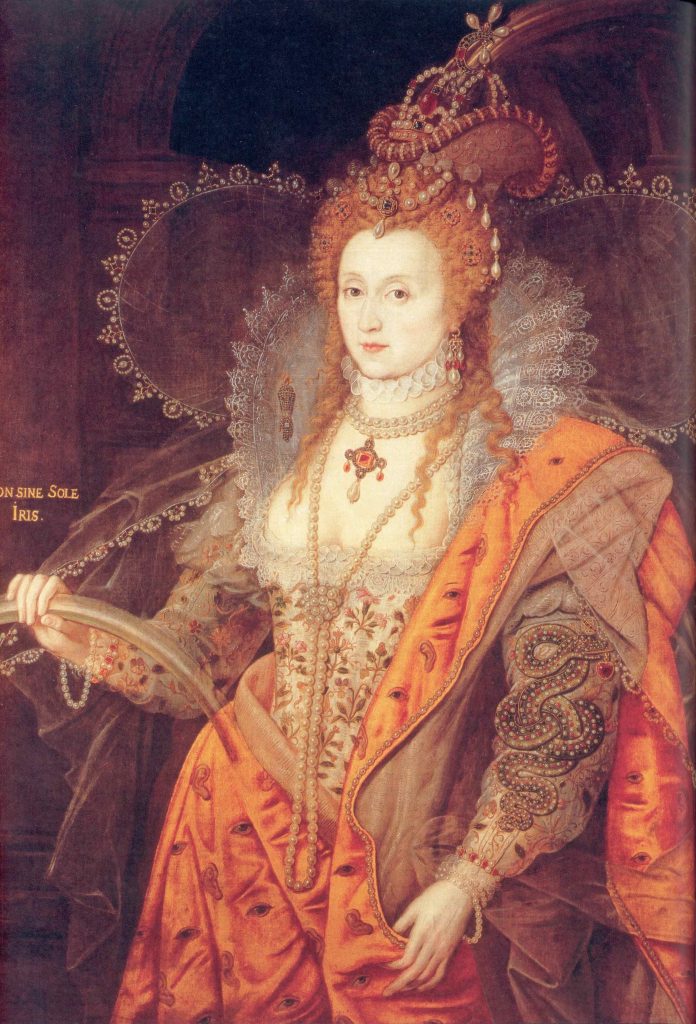 Many of Elizabeth's portraits contained religion imagery, such as the cross around her neck in this portrait.
Religion in England Under Henry
At the start of Henry's reign England was Catholic. Everybody went to church and was very religious. All the bibles and services were in Latin but most ordinary people couldn't read, or understand the language so a lot of the services and churches were very visual with lots of ceremonies and pictures all around the church that told stories.
Henry then changed the country to Protestant. This meant that priests were now allowed to get married. All churches were stripped of any decorations and had to be plain. English Bibles started to be introduced (although people still couldn't read!) Things started to change slowly. Henry himself wasn't actually that bothered about religious aspects of Protestantism, so didn't force it in the churches very much. For most ordinary people life did not change much in Henry's reign.
Henry actually cheated, and converted back to Catholic one hour before his death! He wanted to make sure that he would go to heaven…
Religion Under Edward
Edward made sure the country was officially Protestant, and followed strict rules to the letter (Although many people remained Catholic in secret!). All bibles had to be in English and services were in English. Celebration was kept to a minimum, and church services became about educating people on religion. Priests were allowed to get married. For ordinary people there were not as many festivals in the church as there had been before. The churches were very plain with white walls and simple furniture. He removed the stained glass windows and statues of the Virgin Mary.
Religion Under Mary
After Edward's death, Mary came to the throne and did a complete reversal with the country's religion. She made married priests leave their wives, she banned English bibles and church services. Churches had to be redecorated. She also killed anyone that went against her which earned her the nickname Bloody Mary. Many ordinary people were fed up with all the religious changes that had been taking place. (Most of the ordinary people still couldn't read in English or Latin!).
Elizabeth's Personal Religious Background
Elizabeth was a Protestant as she was born to a Protestant mother, Anne Boleyn, after her father, Henry VIII had broken away from the Catholic Church in Rome and made himself Head of the Church in England. Elizabeth did not accept people doing Mass as she said this was Catholic, and she rejected the Catholic belief of Transubstantiation.
Transubstantiation is the belief followed by the Catholic Church that during Communion in Mass, the bread and wine that are used to represent Jesus' body and blood actually turn into the body and blood of Christ, but still appear in the form of the bread and wine.
Protestants believe that the bread and wine just represent Jesus' body and blood. They do not believe that it actually transforms. This was the main disagreement Elizabeth had with Catholics, and was quite strict on this. On the whole, Elizabeth was fairly tolerant. This changed over time as Catholics opposed her reign.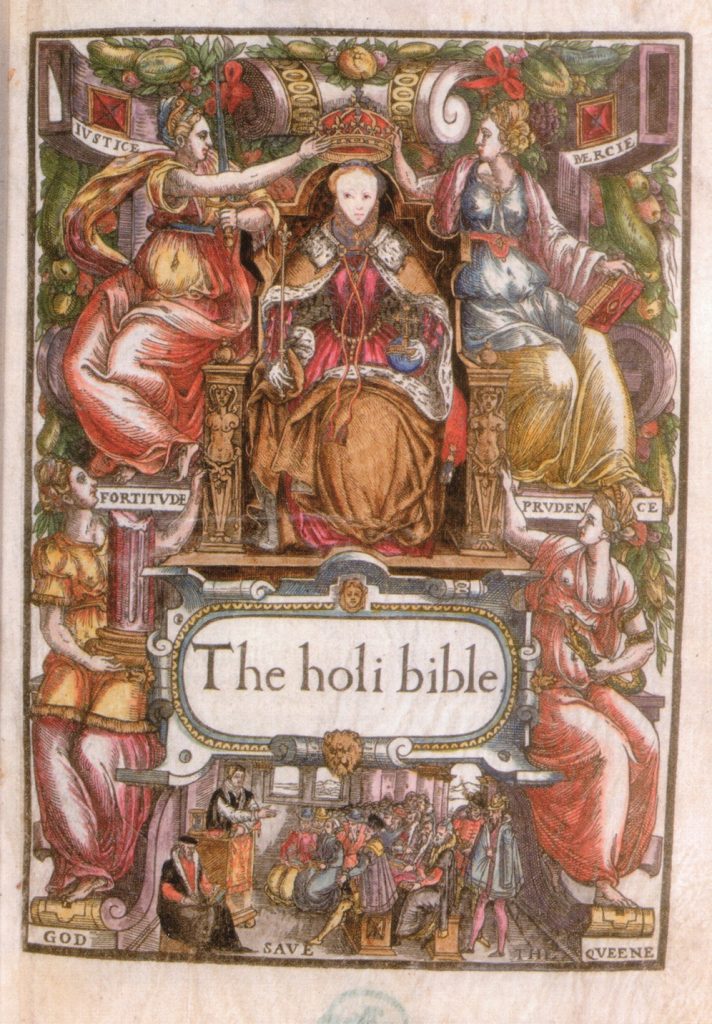 This picture reveals just how far Elizabeth's religious influence went - her portrait was put on the front of some of the new English Bibles.
So what was Elizabeth's Middle Way All About?
Elizabeth came to the throne after all of the religious upheaval that had taken place under Henry, Edward, and Mary. She wanted to sort out some of the problems. Although Elizabeth was officially Protestant she was more tolerant of Catholics. The country became officially Protestant once again. Many people had lived through three religious changes and now felt happier that the changes were settling down. However, it is important not to underestimate that when Elizabeth came to the throne, there was a desperate need to create religious stability.
Elizabeth was not going to radically change the church the way her sister and brother had done before. She needed to find a 'Middle Way'. She liked certain parts of Catholicism, such as the church music and decoration so wanted to form a version of the Church of England which would keep the majority of people happy. Elizabeth was believed to have said "there is only one Christ, Jesus, one faith, all else is a dispute over trifles."
Elizabeth's aims for creating this church were political rather than religious. She wanted to stop any civil unrest and rebellions, and the country was very much divided in terms of religion, with the North being more Catholic and the South Protestant. It would give her more power and control to be in charge of the Church.
It is also important to remember that the 'Middle Way' was not 'half-Protestant', 'half-Catholic', nor did Elizabeth in any way consider herself a Catholic. The Middle Way Church was a Protestant Church with some Catholic influences, which were designed to make more of England's population happy, but mainly to settle the constant back-and-forth over religion.
How did Elizabeth go About the Middle Way?
Act of Supremacy 1559
In May 1559, the Act of Supremacy was passed. This re-established that England was broken from Rome (As Mary had changed back during her five year reign!) It also reiterated that Elizabeth was the head of the Church.
Elizabeth gave herself the title Supreme Governor rather than Supreme Head which Henry and Edward had used. She hoped this would pacify the Catholics who still thought of the 'Pope' as the Head of the Church. Elizabeth did get all members of the Clergy to swear an oath of loyalty to her.
The Act said that the Church would keep two Archbishops, The Archbishop of Canterbury and the Archbishop of York. Various bishops below them would then help them and Elizabeth to run the Church. This was to try and keep the Catholic structure in place and keep Catholics happy.
The Court of High Commission monitored people, and prosecuted those who seemed to be disloyal.
The Act of Uniformity and The Thirty Nine Articles 1563
In __1559 __the Act of Uniformity was passed. This aimed to end arguments between the Protestants and Catholics by making it clear what the Anglican Church believed in. It provided a Book of Common Prayer. This book replaced all of the versions which had come out during the previous monarchs' reigns, and provided much-needed clarity.
The Thirty Nine Articles was an amendment of the Act of Uniformity and gave Elizabeth the chance to present exactly which rules the Church was going to follow:
The Church created was Protestant.
A new book of common prayer was issued, in English.
Catholic Mass was abandoned.
The Bible was also written in English and the services were to be held in English.
The clergy were allowed to marry.
Old Catholic practices such as Pilgrimages and Saints images were banned.
The stone Catholic Alter was replaced by the Protestant wooden table, but it was allowed to have ornaments, crosses and candles.
Priests wore Catholic style Vestments (fancy priests' clothes) rather than the plain black ones worn by Protestants.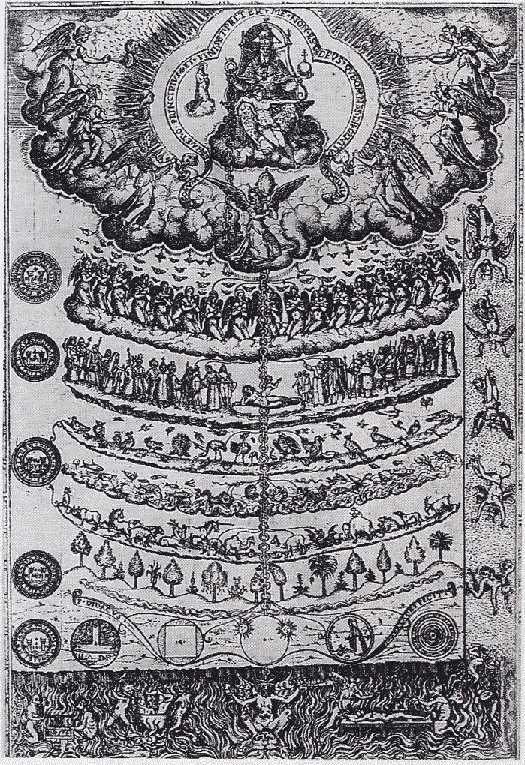 Elizabeth's Middle Way Church still maintained most of the same social messages, including that of social order. The Great Chain of Being (shown in the picture) was a common theme which the Middle Way Church still supported. This also shows how the Middle Way Church was a political tool for Elizabeth, and she made sure it kept the same messages of social stability.
Define the following key terms:
Act of Supremacy

Your answer should include: 1559 / Elizabeth / head of Church

Act of Uniformity

Your answer should include: arguments / Anglican Church / belief

Middle Way

Your answer should include: compromise / church / Elizabeth / Anglican

Great Chain of Being

Your answer should include: hierarchy / God / rank / social / stability