Who was Bess of Hardwick and what was Hardwick Hall?
Background Information
Hardwick Hall is located near Chesterfield in Derbyshire. It is one of the many 'Prodigy houses' which were massive mansions built by courtiers in Elizabeth's reign. Many were built to host Elizabeth on her progresses, but she never visited Hardwick Hall as it was too far north and built later on in Elizabeth's reign, when she was ageing.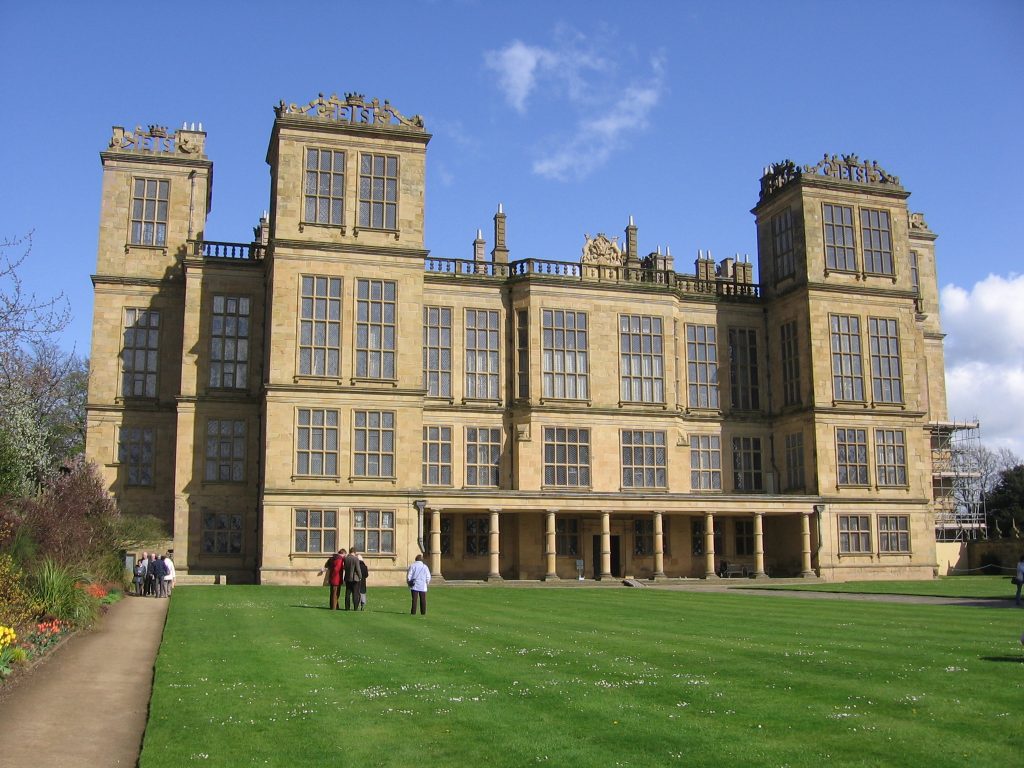 Here is a picture of Hardwick Hall - we will be discussing the particular design and architecture in the next lesson, but for now just admire how grand it looks, and how it clearly shows that Bess was important and rich.
Who was 'Bess of Hardwick'?
Hardwick Hall was built by Elizabeth, The Countess of Shrewsbury, full name Elizabeth of Shrewsbury, is now more commonly known as 'Bess of Hardwick'. After the Queen, Bess was the wealthiest woman in England. Bess was the daughter of a gentlemen who was modestly wealthy, and she became enormously wealthy through her four marriages.
When her fourth husband, the Earl of Shrewsbury, died, Bess used some of the money she inherited to build a palatial home that was designed to make a statement. It was built on the site of her old family home, where she had been born. The Old Hall was perfectly serviceable, but an old-fashioned building. The ruins of the old hall still stand next to the new house.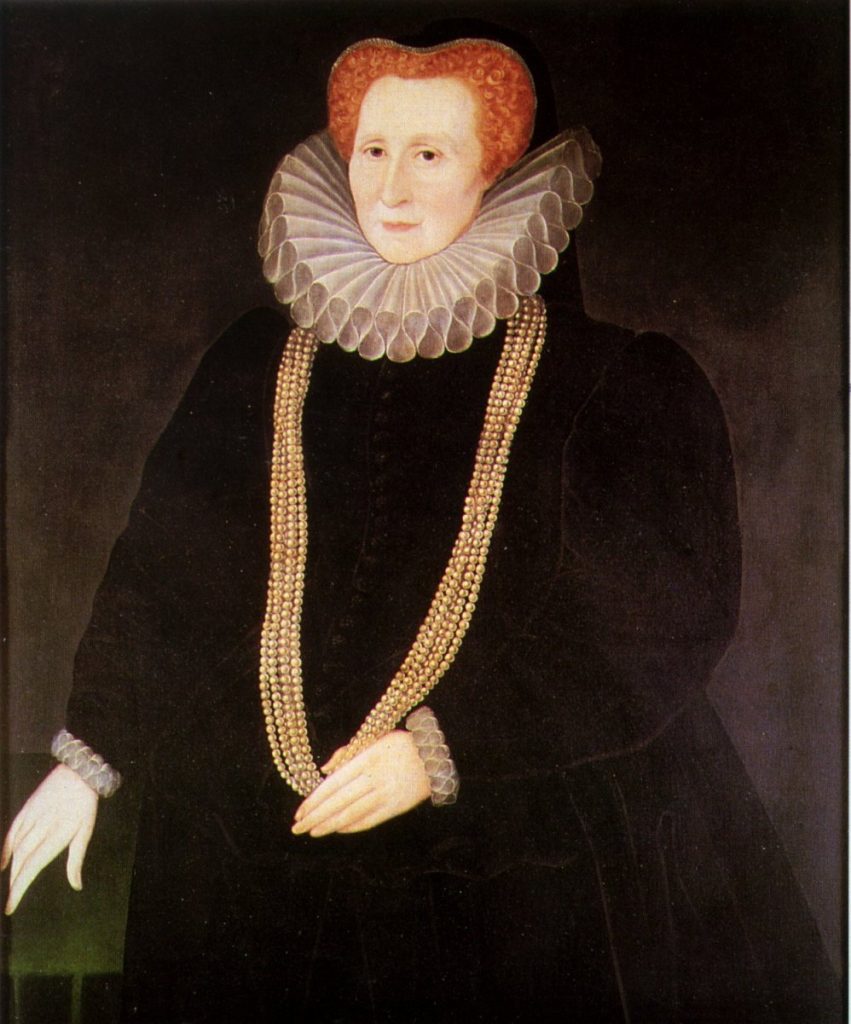 This is a picture of Bess of Hardwick. Notice how she is portrayey very similarly to Elizabeth? Bess was a constant supporter of Elizabeth and styled herself after her - two powerful, independent women in a man's world.
What was Bess' Relationship with Hardwick Hall?
Before Hardwick Hall had ever even been thought of, let alone built (by Bess), Bess was born on the land in which Hardwick Hall now stands. It was a small manor house then, in the 1520's. Bess' father was a landowner and he died when she was a baby, leaving the family in struggling financial circumstances.
The problem was not that the family didn't have assets, but that under Henry VIII, the estate was seized by the Crown. That meant Bess' family lost control of their land until her toddler brother James became old enough to inherit. Hardwick Hall's farming profits would go to the Crown and not to Bess' family, although they were able to remain living there.
Bess' mother remarried Ralph Leche, the younger son of the Chatsworth family. The family was not poor but struggled, and Bess learned from her experiences as a child when it came to her future in developing Hardwick Hall. She was skilful in her financial dealings which most likely stems from her childhood.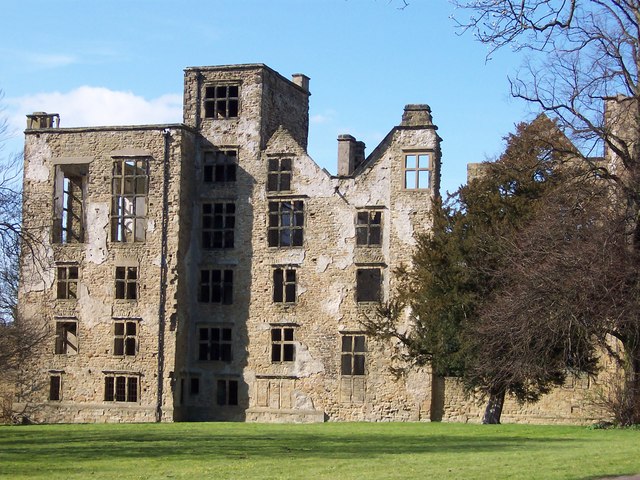 This is the Old Hall in which Bess was born, this was left to stand next to the new Hardwick Hall as a reminder of how far Bess had come.
Bess' Marriages
When Bess was around fourteen (The exact date is not known), which was common in Tudor England, she was married to her first husband, Robert Barlow, who was possibly a year younger, about thirteen himself. Robert died within two years of them bring married. Bess had to fight for her 'widow's dower' of one third of Robert's estate. It is thought Bess met her second husband, William Cavendish, when she moved to Bradgate Park (The home of the heirs to the throne Grey sisters, Jane, Catherine and Mary).
Bess Starts to get Wealthier
In 1549, Bess married William Cavendish__ and she inherited __£600 and a proportion of land. (Approx £190,000 in today's money) Bess had two daughters with William, Frances and Temperance, but Temperance died as a baby. She also had two step-daughter who were William's children from his first marriage. William was twenty years older than Bess and had become very wealthy during the reign of Henry VIII as a commissioner for the Dissolution of the Monasteries. Bess persuaded him to buy more property in their joint names.
Bess then had two sons, William and Henry. Sir William and Bess began to build Chatsworth House. Bess personally ran the accounts for their growing estate. She was financially careful and organised but gave generously to those around her. It is unlikely that Bess and William were married for love, but they had an excellent business relationship. Bess and William lived in Chatsworth which was near to Hardwick where her mother lived.
Bess' Marriages Continue
William died when Bess was thirty and she fought the Crown for control of his assets and land. Bess' youngest daughter also died within a year. She visited London in 1558 and stopped in Princess Elizabeth's household (soon to be Queen Elizabeth) and met her third husband, William St Loe. The new Queen Elizabeth then appointed Bess as Lady of the Privy Chamber. William was very much in love with Bess and lavished her with gifts. However he died suddenly, leaving almost everything he owned in his will to Bess. Bess was now very wealthy and she met her fourth husband, The Earl of Shrewsbury, George Talbot and they married in__ 1567__.
Her brother James had died and she bought back the Hardwick Estate in__ 1583__ that had belonged to her family. Bess was in her sixties but she began to transform Hardwick into a great mansion.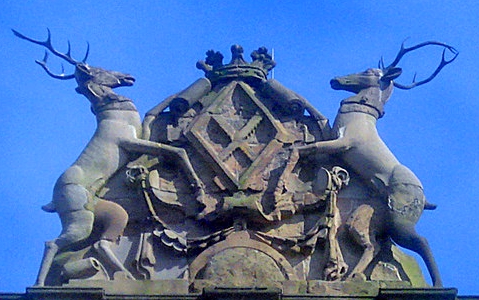 This is the crest of the house of Shrewsbury - these were placed along the top of the house, partly for Bess to stamp her authority and identity onto the house.
Key Quotes and Points About Bess and Hardwick Hall
It took 23 labourers four weeks to dig and lay the foundations of Hardwick New Hall in__ November 1590__. For Elizabeth, Countess of Shrewsbury, later known as Bess of Hardwick, the start of these building works brought the realisation of a long-held dream. Now an immensely wealthy widow in her mid-sixties, she found herself free to devote her still considerable energy to the passion that had shaped and animated her life – the building of the most beautiful house in Elizabethan England.
Bess enjoyed a long and for the most part cordial association with the Queen (Elizabeth, with little love of women and wives in particular, perhaps recognised in Bess someone of her own mettle). She was a close friend of Lord Burghley and the Earl of Leicester and within the larger arena of Elizabethan society she was highly respected and probably feared.
As the wife of the Earl of Shrewsbury, who was appointed jailor to Nary Queen of Scots in 1568, she found herself housing a royal prisoner for 16 long years. Partly as a consequence, her marriage to Shrewsbury broke down in a spectacularly bitter and public manner, providing Elizabethans with a running soap opera and a rare instance of Bess losing control of events.
By 1600 she commanded an annual income of around 20,000, making her the richest woman in England (only superseded by the Queen whose revenues stood at £300,000) and presided over a vast acreage of land from Derbyshire to Gloucestershire.
Bess intended Hardwick to dazzle, to stand as a showcase for those features so coveted by Elizabethan builders: symmetry, architectural 'devices' and glass.
Historians, especially 19th-century male historians, have demonised Bess, as a monster of overweening ambition and avarice, as a traitor to her sex.
Bess was immensely ambitious, not merely for her own interests but for those of her family, her children.
Define the following terms:
Bess of Hardwick

Your answer should include: Elizabeth of Shrewsbury / built / Hardwick Hall

Hardwick Hall

Your answer should include: Elizabethan / Manor / House / Derbyshire

Robert Smythson

Your answer should include: architect / Hardwick Hall