Why was Elizabeth forced to imprison Mary, Queen of Scots?
Mary's arrival into England
1559
The Scottish Protestant Lords' Rebellion begins in Scotland. They rebelled because they did not like the French Catholic influence brought to Scotland by Mary, Queen of Scots' mother. Elizabeth secretly sent money to help the troops, and eventually sent her own troops to.
1560
The Scottish Protestant Lord's Rebellion ended with the Treaty of Edinburgh in 1560. The treaty stated that Mary would have to give up her claim to the English throne.
1561
After the unexpected death of her husband, King Francis II of France in December 1560, Mary returned to Scotland from France. Although she was Queen, the Protestant lords controlled the Scottish government. Mary never approved of the treaty but she had no say in the matter.
1565
Mary married her second husband Henry Stuart, Lord Darnley. He had a distant claim to the English throne through his grandmother. This angered Elizabeth as Mary's marriage strengthened Mary's claim to the throne. This marriage eventually leads to revolts as Mary and Lord Darnley were both devoted Catholics and this angered many Protestant earls in Scotland.
1566
Mary gives birth to her son, James. This meant that anyone who wanted Mary to be Queen of England could argue that she had something Elizabeth did not - a clear heir to the throne.
1567
Henry Darnley was murdered. It was expected that the Earl of Bothwell and Mary were both suspected of being involved.*1 Darnley was a ruthless drunk who treated Mary roughly. Also, Mary married Bothwell shortly after Darnley's death. The scandal led to the Protestant Scottish lords rebelling again. They forced Mary to step down form the throne in favour of her baby son, James. Mary is imprisoned in a castle on an island in the middle of a lake.


1568
Mary manages to escape and raises an army to try and win back her Scottish throne. Mary's forces were defeated near Glasgow, and she fled to England, seeking Elizabeth I's help against the rebels.
1569
Evidence, mostly in the form of letters, was provided to show that Mary had indeed murdered her husband. Mary was also caught writing letters to France, Spain, the Pope and English Catholics. This communication was a threat to Elizabeth's power. Any chance of Elizabeth securing Mary's release back to Scotland ended and Elizabeth decided to imprison her.
1570
Pope Pius V excommunicates Elizabeth. This makes Mary's claim considered as more legitimate because of her Catholicism. Being excommunicated removed Elizabeth's 'divine right' to be a monarch which was believed to have been appointed by God.
*1 - Extend your knowledge.
Lord Darnley became restless with his position as king consort and demanded to be made full King. Mary refused. Mary became pregnant but Lord Darnley became jealous of her relationship with her private secretary David Rizzio. Darnley and a group of Protestant rebel accomplices burst into a party hosted by Mary and stabbed Rizzio to death in front of Mary. After the murder Darnley swapped sides to support Mary and they both fled from the rebels. Prince James was born to Mary but Lord Darnley was taken ill. Mary frequently visited him in the house he was staying in. Then it, and he, were destroyed in a mysterious explosion. Mary and her new favourite the Earl of Bothwell are prime suspects in the murder. Mary and Earl of Bothwell later marry. Rebels rise up because of this and capture Mary, forcing her to abdicate in favour of her infant son. Despite escaping and raising an army, Mary is defeated and forced to flee to England to live under the protection of her cousin, Queen Elizabeth I.
Mary's claim to the throne
Mary, Queen of Scots was a threat to Elizabeth's power due to her claim to the throne. Like Elizabeth I, Mary, Queen of Scots was also the great granddaughter to Henry VII - the first Tudor king.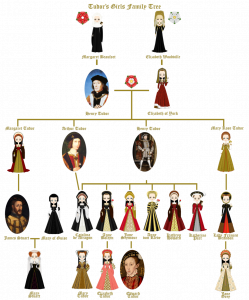 Mary's mother was Mary de Guise. She came from a very powerful and influential catholic French family. They had a lot of influence in France. The French and English were longstanding enemies.
Who was Mary, Queen of Scots' great grandfather?

Henry VII

Who was Mary, Queen of Scots' mother?

Mary de Guise

What does Mary decide to call her son?

James

Which Pope excommunicates Elizabeth in 1570?" answername="1525811226032" answer="Pope Pius V

Pope Pius V