Whendoweparagraph?
TIPTOP
You need to change paragraphs when you change:
Time
Place
Speaker
Topic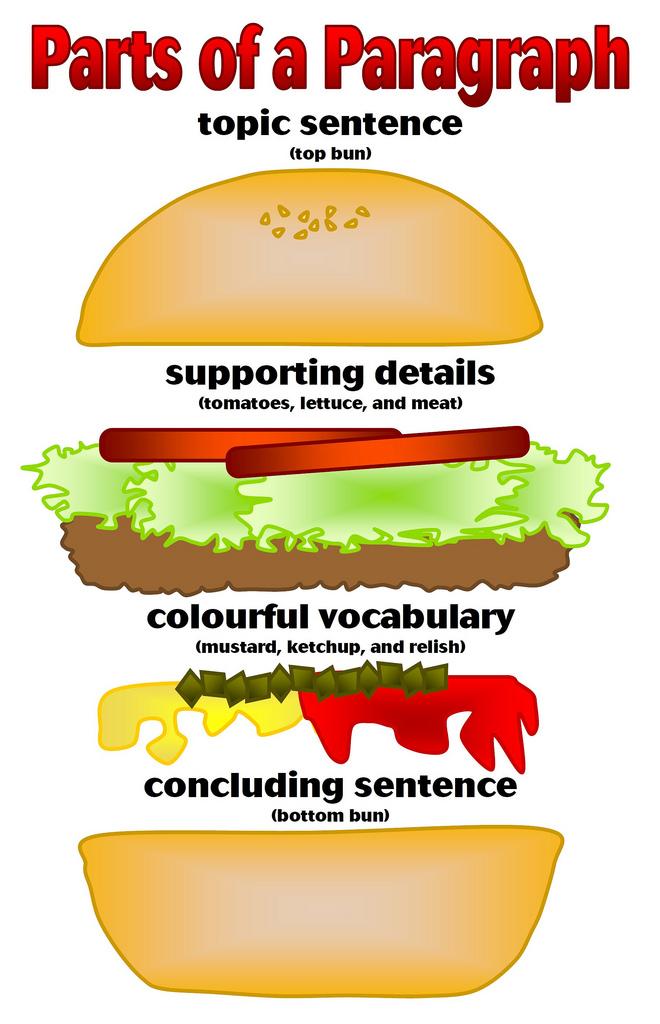 __Consider your paragraph to be a hamburger. __
The topic sentence is what the paragraph will be about.
The contents of the burger contain more information.
It is important to conclude your paragraph with a final sentence.
You can use the following words to help connect your sentences:
and
| | | | | |
| --- | --- | --- | --- | --- |
| also | as well as | moreover | too | Cause and effect |
because
so
therefore
thus
consequently
Sequencing
next
then
first, second, third…
finally
meanwhile
after
Qualifying
however
although
unless
except
if
as long as
apart from
yet
Emphasising
above all
| | | | | | |
| --- | --- | --- | --- | --- | --- |
| in particular | especially | significantly | indeed | notably | Illustrating |
for example
such as
for instance
as revealed by
in the case of
Comparing
equally
in the same way
similarly
likewise
as with
like
Contrasting
whereas
instead of
alternatively
otherwise
unlike
on the other hand
Examples
When you end your writing, it needs to be an exciting/shocking/mysterious conclusion. This is because you need to be entertaining your reader all the way through the piece.
Look at these two. Which one leaves you with more questions?
The gloved finger slowly moved towards the trigger.
Grabbing the gun, we struggled and the bullet went into his chest, piercing his evil heart.
You can do two things at once with a short, yet effective ending.
A) Still be entertaining
B)Show you are using a paragraph to effect the reader
How?

__Use a one line paragraph to conclude your work. __
A one line paragraph will stand out, so it makes sense to use it for a dramatic/mysterious ending.
Practice
What would be an effective ending to a story?
What does 'TIPTOP' stand for?
How do you link a sentence?