Investigate Absorption and Radiation Required Practical
Experimental Set Up

Method
Method 1
You are provided with the following:
Leslie cube kettle
Infrared detector
Heatproof mat
Read these instructions carefully before you start work.
Place the Leslie cube on to a heat proof mat.

Fill the cube with very hot water and replace the lid of the cube.

Use the detector to measure the amount of infrared radiated from each surface.
Make sure that before a reading is taken the detector is the same distance from each surface.
Draw a bar chart to show the amount of infrared radiated against the type of surface.
OR
Method 2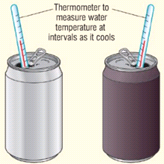 Take two cans with different materials wrapped around them for insulation
Add 300ml of hot water to either a silver or black can using a measuring cylinder
Record the starting temperature using a thermometer.
Record the temperature every 30 seconds for each can for 5 minutes.
Repeat steps 1-3 for the other can. The starting temperature needs to be the same as before.