Successful and Declining Places
Success or Decline
Areas experience success or decline based upon a number of factors.
SUCCESS
This flowchart shows the areas which could affect whether a place is successful.
Economic success -
This will cause education to get better, and healthcare in the area may also improve.
People will want to live in a successful area, which will experience in-migration. This model is called cumulative causation.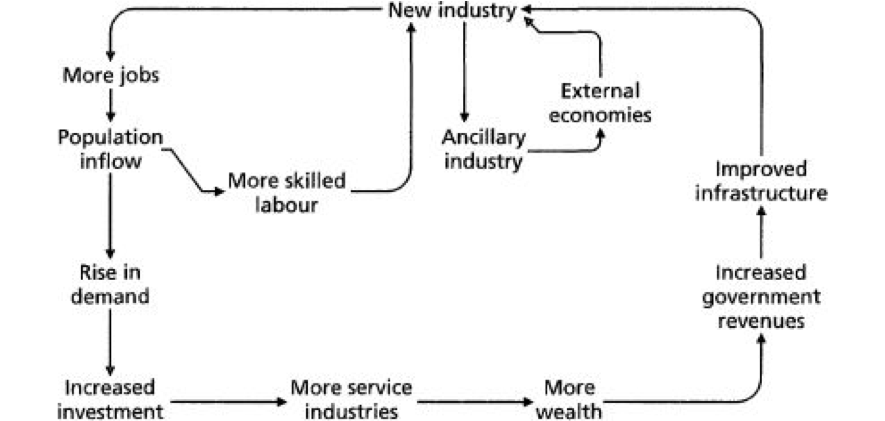 SPRIAL OF DECLINE
This model shows a spiral of decline.
Low revenue and income into the area
employment opportunities are rarer
high unemployment.
This can also affect the built environment, meaning it is perceived as unattractive by investors and people with a view to living there.
Out-migration may happen due to dissatisfied residents.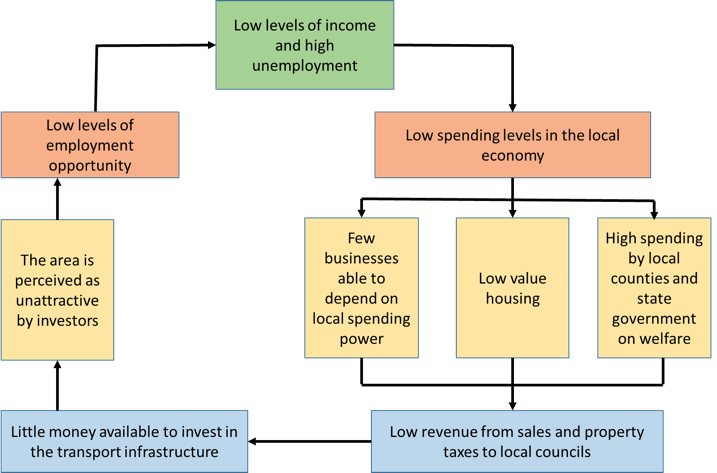 San Francisco
San Francisco and Sillicon Valley
The leading global region for entrepreneurship, investment and tech business.
Its highly-skilled talent and ability to develop and commercialise technology and launch businesses is unparalleled.

Many of the world's most innovative technological advances have been conceived, incubated and scaled in Silicon Valley, generating economic growth and prosperity for the region's companies and residents.

The San Francisco / Silicon Valley Area consists of 101 cities, __but it is one economy with __more than 7 million people living, working and recreating across the region.
If the San Francisco / Silicon Valley area were a country, its economy would rank 23rd in the world.

Since 2010, Bay Area employment has grown at nearly double the rate of other US metropolitan areas.

__Corporates and start-ups. __
Many world-famous companies have their own campuses in Silicon Valley, but many smaller companies prefer to locate in San Francisco.
Many firms start in San Francisco and move to Silicon Valley when they get larger.

With 2.33 million square metres of office space, the SoMa (South of Market Street) area is the leading tech centre in San Francisco.

Labour productivity was 62 per cent higher than the U.S. average in 2013.
The share of science, technology, engineering and maths (STEM) jobs in the region's economy was 2.6 times higher than the national average in 2013.

The area's technology industry is highly diverse, spanning hardware, software, biotech, clean tech, communications, and social media.

Transport is a critical challenge in San Francisco / Silicon Valley.

Although there are high levels of demand, extensive commuter rail and three major airports – the historic under-funding, numerous modes, two-dozen transit operators, and fragmented strategic management – has led to __greater congestion __and increased commuter journey times.

Other challenges related to housing, falling R&D spending and lack of effective workforce and skills planning and development.
The San Francisco / Silicon Valley area housing costs and rent prices are at an all-time high, largely as a result of the failure to construct new housing in line with demand.
This has led to inequality and some groups of people being left out of the housing market.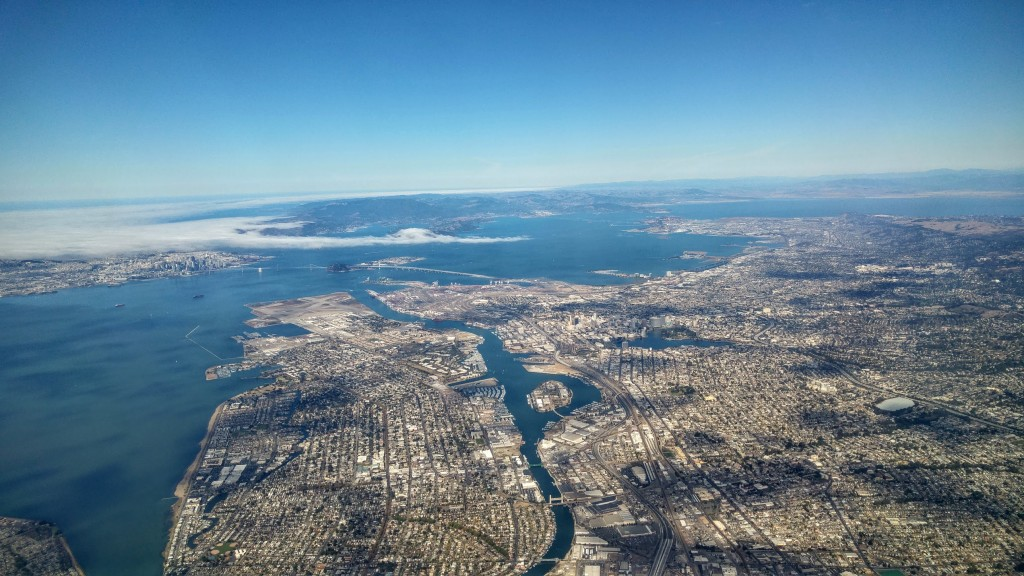 Rust Belt
The Rust-Belt is an area in the north west of the United States.
It spans a large geographical area over many states such as Ohio, Indiana, Michigan and West Virginia.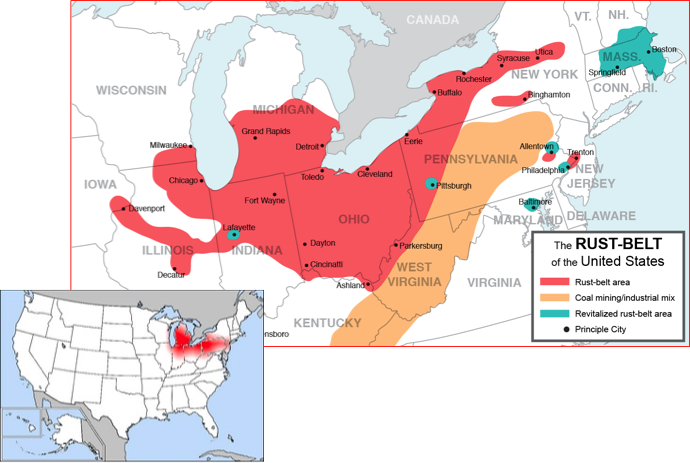 As shown by the graph, overall, rust belt metropolitan areas have 4,500,000 less manufacturing jobs today than they did in 1970, compared with 28.4 million private sector workers in that year.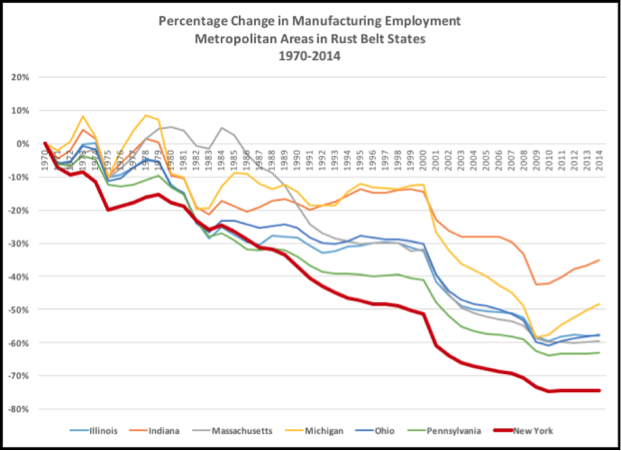 The loss of manufacturing jobs created a significant drag on job growth in the rust belt, and explains much of the growth of income inequality in the United States since the middle part of the last century.
Manufacturing jobs provided working class people with relatively high incomes.
Today, the opportunities that manufacturing provided to people with high school educations have sharply declined.
Some areas have been regenerated such as Pittsburgh.
America's 1980s deindustrialization laid off area blue-collar workers and thousands of downtown white-collar workers when the longtime Pittsburgh-based world headquarters of Gulf Oil, Sunbeam, Rockwell and Westinghouse moved out.
This heritage left the area with renowned museums, medical centers, parks, research centers, libraries, a diverse cultural district and the most bars per capita in the U.S.
In 2015, Pittsburgh was listed among the "eleven most livable cities in the world";The Economist's Global Liveability Ranking placed Pittsburgh as the first- or second-most livable city in the United States in 2005, 2009, 2011, 2012 and 2014.
Google, Apple, Bosch, Facebook, Uber, Nokia, Autodesk, and IBM are among 1,600 technology firms generating $20.7 billion in annual Pittsburgh payrolls.
The area is also home to 60 universities.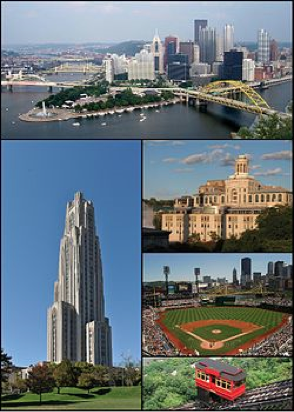 Reasons