The Biochemical Carbon Cycle
New Key Words
__Carbon Cycle __- Carbon moves from one sphere to another by linked processes known as the biogeochemical carbon cycle
Biogeochemical - chemical elements and simple substances are transferred between living systems and the environment.
Fluxes- The movements of organic matter through the cycle are known as fluxes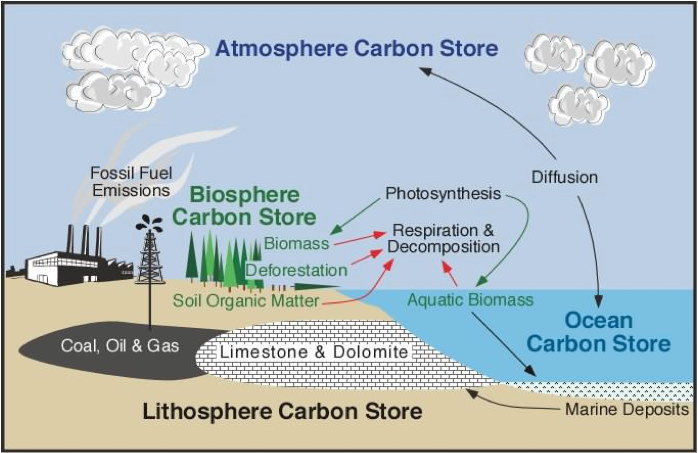 Explain what the carbon cycle is.

Your answer should include: carbon / moves / stores / fluxes
Parts of the Carbon Cycle
The exchange of carbon between its four main reservoirs/pools—
Atmosphere
Terrestrial biosphere
Oceans
Sediments.
The process of transferring the carbon between these reservoirs is called a carbon flux.
Fluxes connect reservoirs together to create cycles and feedbacks.
Terrestrial carbon stores
Decomposition __of organic matter results in carbon returning to inorganic forms such as CO2 and carbonates in r__ock and seawater
__Photosynthesi__s is a flux
Diffusion is a flux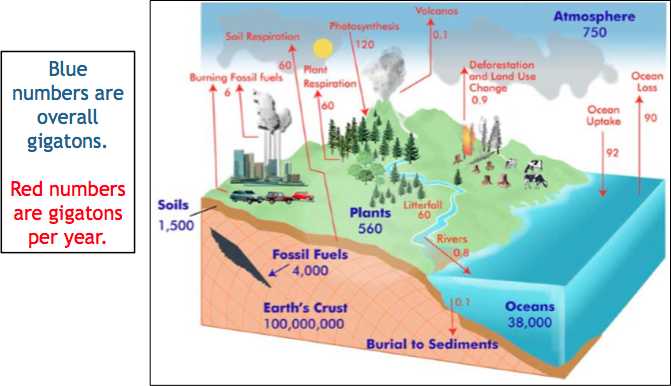 The water cycle is an important driver of the carbon cycle,
e.g. rivers and run-off
Fluxes can add and remove carbon at the same time
Carbon stores in rocks and sediments __(the geological cycle) is __exchanged __(rate of entering and leaving) very slowly.__
This part of the cycle is referred to as the terrestrial (earth) carbon stores and stores carbon over the long-term.
Carbon stores in the atmosphere, oceans and vegetation (the biological cycle) is exchanged rapidly. This part of the cycle is referred to as carbon sequestering
Stores
The main stores of carbon are located in, and transferred between the:
Atmosphere: mainly as carbon dioxide CO2 but also shorter-lived methane CH4
Biosphere: all living organisms are composed of carbon occupying various environments
Cryosphere: the frozen ground of tundra and arctic regions containing plant material
Pedosphere: soil contains much organic carbon and the remains of dead plants & animals
Lithosphere: many of the rocks of the earth's crust contain carbon, such as chalk/limestone (calcium carbonate)
Hydrosphere: the oceans contain much dissolved CO2 as well as marine
Flows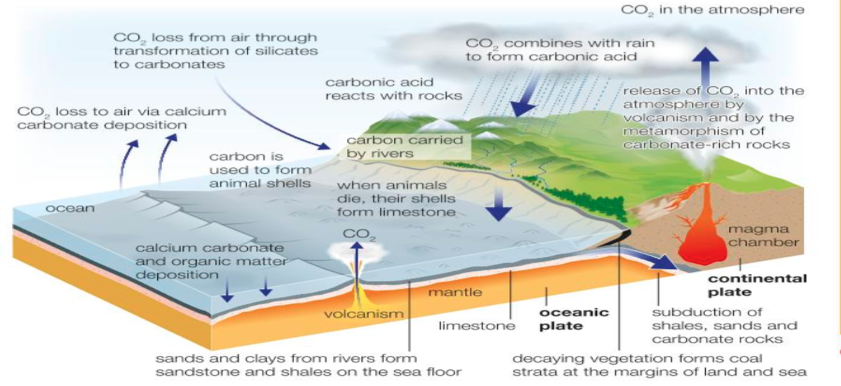 Measuring
Gigaton is the unit of measurement
Better suited for expressing large numbers as it simpler than working with loads of zeros.
E.g. 1 Gigaton = 1 billion tonnes (1,000,000,000)