Conditions That Prompt Trade
Reasons for trading internationally
Push Factors - Saturated domestic market/competition:
In 2008, Vodaphone was the UK's biggest mobile phone network – with 25% of the market. The other 3 big players were O2 (24%), T-Mobile (23%) and Orange (21%). Then in 2010 T-Mobile and Orange agreed to merge __whilst retaining their individual __brands. Why? Now between them they have 43% of the UK market and 29.5 million subscribers. The merger was cleared by the EU competition authorities and the UK's CMA (Competition & Markets Authority) as it was deemed to be in the public's interest.
It would be hard for Vodaphone to expand its MARKET SHARE in the UK. It is unlikely that there would be further MARKET GROWTH. As in most developed countries, most people have >1 mobile, with 125 subscriptions per 100 of the population. The action is all in developing countries now.
Recap on market share and market growth:

The percentage of the total market held by one company or product (by volume (quantity); by $ value (most common))

Market share can grow over time (that's good)! Or, market share can decline over time (that's bad)!
CMA works to prevent an individual business acquiring too much market power. The government's competition policy keeps prices down for consumers and encourages efficiency as a result. This is therefore a kind of limitation to big businesses as they find that they cannot expand their market share in their domestic markets any further.
Tesco is an excellent example. £1 in every £9 spent by consumers in the UK is spent at Tesco!!! That's amazing market penetration. Though sure enough Tesco has had trouble with the CMA – and their rules about where and when Tesco has had too many outlets for customers to have a real choice. These rules limit Tesco in their domestic market. Therefore they have expanded internationally in Japan, Thailand and Eastern Europe (particularly Poland). Though they failed in the USA – risks in one country have been set against successes in another.
For some businesses – the constraint is competing imports, the market is too competitive. E.g. cheap clothes imports in the retail industry. Despite cutting costs, increasing productivity or design – UK clothes manufacturers domestic market share has still suffered to Chinese businesses. Thus their only option is to think internationally and export themselves – e.g. Primark.
Extending the product life-cycle by selling in multiple markets
Businesses operate in a competitive environment and must work hard in order to maintain their market share. But what happens when a market saturates and sales start to decline? Technical changes will always bring a product's life cycle to an end, as will changes in fashion/taste.
Extending the product life cycle can help maintain sales and market share. Product modification may help – which we have looked at before. But if there is a change in fashion – then decline can be quick! New markets may provide sales growth that is unavailable in domestic markets (e.g. '2G' mobile phones being launched in Africa).
Every product will only last for so long – i.e. they have a life-cycle.

The product life-cycle assumes that all products follow the same pattern.

__Definition - __It shows the stages a product passes through from its development to its withdrawal from market.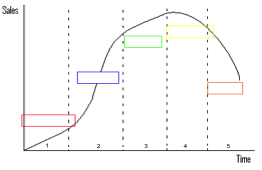 Global sourcing
The UK, like most developed countries, has evolved into a tertiary based economy with strong employee rights and legislation/living wages. For many businesses, the primary objective to seek new locations for production will simply be because the costs will be lower and it will lead to a cheaper supply chain. They seek locations with the lowest wage costs but necessary skills (otherwise there's a trade off between costs and quality!) – e.g. Dyson relocated from Wolverhampton to Malaysia because it was cheaper to manufacture there thus boosting his profit margins.
Offshoring = locating all or part of the production process in a foreign economy where costs are low. It can mean getting foreign businesses to supply the products under your supervision or direct investment by building your own factory/call centre.
Outsourcing = Buying inputs from independent third-party suppliers, either within the same economy or abroad.
What's the difference?__ Offshoring__ = you control, Outsourcing = third-party involvement.
Raising Capacity Utilisation
__Formula to learn: __Current Output/Maximum Output x 100. Magic level is 90%, anything less than this is under-utilisation and anything over this is over-utilisation.
An excellent way to increase capacity utilisation and so reduce costs is to find a new market. Many UK businesses like being part of the EU for this very reason – it makes it easy to find a new market to raise capacity utilisation! Many businesses export to expand, but others export to survive.
Revision Article on Extension Strategies

Video games giant Nintendo has seen its annual profits slump by 66%, hurt by a strong Yen and a drop in sales.
Net profit for the year to the end of March came in at 77.6bn yen ($945m; £570m), compared with 228.6bn yen the previous year, its results showed.
The company said that while it had not suffered any direct damage from March's earthquake, it expected it to weigh on consumer spending in Japan.
Nintendo also announced that it will release a successor to the Wii in 2012.
"Nintendo is banking on [the successor to the Wii] making migration from the Wii - and potentially its rivals - a no-brainer for consumers. "Daniel Sloan, Author of 'Playing to Wiin"
Net sales fell 29% to 1.014 trillion yen.
Nintendo also faces a growing challenge from smartphones and tablets. In a bid to fight back, it launched the 3DS, a handheld console that provides a 3D experience for users without the need to wear special glasses.
The company said the device, which launched in February in Japan and in March in the US, Europe and Australia, had a "smooth start in sales", which totalled 3.61 million worldwide.
New model
In a separate statement, Nintendo said it had decided to launch a system to succeed the Wii next year.
It will give a demonstration of the new model at the E3 Expo in Los Angeles in June.
Nintendo has sold 86 million units of the Wii since its launch in 2006 – with it being the best selling Christmas present in the UK for 2 years in a row in 2008 and 2009 (this is the first time ever that the same product has achieved this).
But sales of the console are falling - 15.1 million were sold in the year to March, down from 20.1 million the previous year.
And Nintendo expects sales of about 13 million in the next year.
By comparison, rival Microsoft has also seen a slight fall in sales of its Xbox - it sold 10.3 million in the year to March 2010, down from 11.2 million the previous year.
But Sony has seen a rise in sales of its Playstation 3. It sold 13 million units in the year to March 2010, up from 10.1 million the year before.
Pull factors
We do operate in an international and global market nowadays – the rise and power of the internet has made this certain. Thus to be truly innovative and carry out truly unique R&D global sales are vital, as domestic sales might not produce enough profit to reinvest into R&D. Of course the bigger the scale, the bigger the risk. Development costs can overrun. The airbus A380 did – but its global market (such as advanced orders from Singapore Airlines and others) ensured adequate money to support its R&D costs and carry on. If it had've just aimed the Airbus domestically, it would have failed to move beyond R&D!! (it was meant to cost 8.8billion euro – but was 11billion euro!).
Thus for some businesses the motivate is to seek economies of scale to offset risk. In order to attain the minimum efficient scale (lowest average costs curve where economies of scale are maximized), the domestic market simply won't cut it and an international market is the only way.