What do the letters and numbers mean?
When letters are used in maths they represent a variable. This variable is a number that may change.
For example, the price of petrol varies, somedays petrol costs more than other days.
Because it varies we can't say that the price of petrol is alway one number. Therefore we represent this variable with a letter. In the case of petrol I might decide to use the letter p ( I can use ANY letter).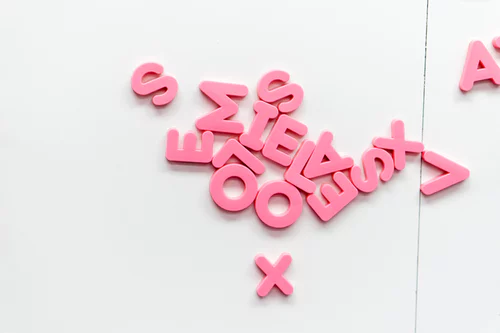 Algebraic vocabulary
There are several key terms that you need to learn.
Co-efficient
Definition: The coefficient of a term is a constant quantity which multiplies a variable. Put more simply, it's the number that goes in front of a letter.
Example: __4__y = 4 is the coefficient of y. __5a__b = 5a is the coefficient of b.
Term
Definition: In maths the word Term describes a variable, this can be a number or number of variables multiplied together. They are separated by + and - .
Example: __3a __- 7y + 9ab - 2a2. The different colours represent the different Terms in the expression.
Factor
Definition: A factor is a number that can be divided into another number or expression without a remainder.
Example: 4a + 16b. 4 is a factor of 4a because 4 x a = 4a, 4a ÷ 4 = a. In this division there is no remainder. 4 is also a factor of 16b because 4 x 4b = 16b, 16b ÷ 4 = 4b. In this division there is also no remainder.
Expression
Definition: A collection of symbols or Terms that express a quantity when they are put together.
Example: 4x + 5, 5y + 9fg, 0.65t + ½ + m. These are all expressions, they are expressing a quantity of something. There is __no __equal sign!
Equation
Definition: An equation shows two things that are equal to each other.
Example: 4y + 3 = 12, 8g + 0.7y = 20 - 5t. These are equations. Equations __ALWAYS __have an equals sign ! = !!!
Identity
Definition: An identity is an equation that is true WHATEVER the number of the variable.
Example: C + C = 2C. No matter what the value of C this will __ALWAYS __be true, therefore this is an identity.
Counter example: 5y + 2 = 12 is __only __true when y = 2, therefore this is __not __an identity.
Formulae
Definition: A formulae is a mathematical equation that can be used to solve a specific problem.
Example: Speed = Distance/Time. The area of a triangle = ½ x height x base.
Inequality
Definition: An inequality describes a relationship between expressions that may be less than, less than or equal to, more than, or more than or equal to.
Example: 5x > 2.8t + 2 ≥ 5.
What is 5x +8c -2 in relation to the vocabulary above?

Expression

What is 46 + 2y = y + y +20 + 26?

Identity

What is 7x + 4 < 22?

Inequality