Definitions
Depopulation: The decline of the total population of an area.
Deindustrialisation: Decreased activity in manufacturing and closure of industries, leading to employment.
Decentralisation: Shift of shopping activity and employment away from the CBD to new areas.
Suburbanisation: The movement of people from the inner suburbs to the outer suburbs.
Regeneration
In the 1980s in an effort to reverse the process of inner city decline the UK government set up Urban Development Corporations (known as UDCs). The aim of these UDCs was to regenerate inner city areas with large amounts of derelict and unused land by taking over planning responsibility from local councils. These UDCs had the power to acquire and reclaim land, convert old buildings and improve infrastructure through the investment of government money. These UDCs also attracted private sector investment through offering companies reduced taxes and other benefits and in doing so they promoted industrial, residential and community developments.
The London Docklands Development Corporation
During the 19th century, London's port was one of the busiest in the world, but by the end of the 1950s it was in significant decline with many of the docks derelict and abandoned. In response to the resulting social, economic and environmental problems the London Docklands Development Corporation (LDDC) was set up in 1981. It had 4 main aims:
To ensure housing was available to all
To encourage development of business and industry
To bring land and buildings back into use
To create an attractive environment
Docklands Sucecss or Failure
How successful was the London Docklands Redevelopment?
Successes:
More trade for local shopkeepers
Cheaper rents here for large companies yet still the benefit of only being 10 minutes from central London
S wide range of economic, environmental and social benefits - including 22,000 news housing units and 1000s of new jobs.
Greatly improved accessibility in and out of docklands
Addressed the once failing land, housing and commercial property markets in the area.
Criticisms:
There were criticisms that despite the improvements many of these didn't benefit the original 'eastenders'
Many locals were unable to afford the high costs of the new expensive houses / flats (still a lack of low-cost housing in the area)
Despite an increase in jobs with new businesses coming in, most required skills that the old dockers did not have;
Reduction in community spirit that the old Docklands had - with the 'yuppie' newcomers not mixing with the eastenders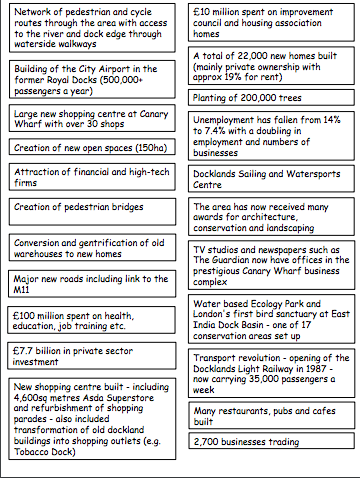 Viewpoints
Some people disagreed with the redevelopment, which had negative effects on the local people:
New jobs went to people living outside the area, as local people did not have the technical skills (a lot of new jobs created were in finance/media industries–using high tech equipment–local people not skilled enough to do these types of jobs).
A lot of new housing far too expensive for locals.
More money was spent on providing infrastructure (expensive offices + houses) and a clean environment for office workers; than on services (e.g. hospitals and care for elderly, health + educational facilities for local people).
Noise + air pollution (dust) from the building.
Prices in area generally increased (e.g. in shops, bars etc.) –Newcomers were wealthy, causing local shop and recreational prices to rise.
Newcomers did not mix with local people–tension–causing a breakdown of East Ender's community.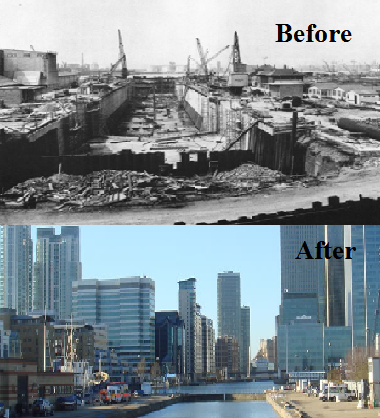 Explain how and why regeneration happened in inner cities in the UK in the 1980s.

Your answer should include: UDC / Inner / City / Decline / Regeneration / Private / Sector / Investment / Attracting

Outline some of the main changes to the Docklands under this regeneration.

Your answer should include: Transport / Investment / High-Tech / Finance / Trees / Attractive / Environment

Discuss who would be unhappy/happy with regeneration and development in the Docklands.

Your answer should include: Local / People / Investors / Stakeholders